The Middle East economy looks to have recovered from pandemic-related losses earlier than expected, thanks to higher oil output and almost complete lifting of health restrictions in some countries.
The progress is expected to continue over the coming year, reads a report issued by the Institute of Chartered Accountants in England and Wales (ICAEW).
New COVID-19 outbreaks remain a risk to the outlook for the region and globally, as the emergence of the Omicron variant highlights. However, comparatively high vaccine coverage, especially across the Gulf, should limit the need for tight control measures.
Provided the Omicron variant does not prove too disruptive, we expect Middle East GDP to accelerate to 4.4 per cent in 2022, after an estimated expansion of 3 per cent this year (up from 2.6 per cent three months ago).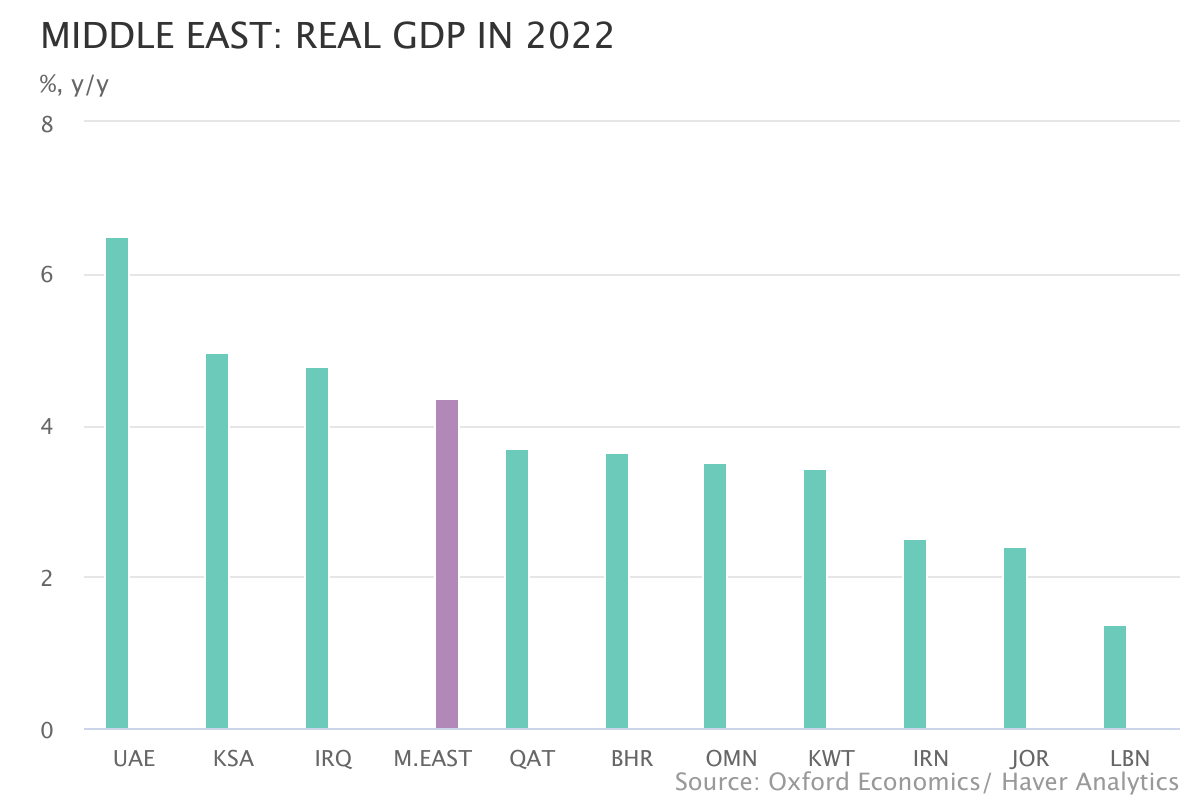 Activities appear to be rebounding strongly across the GCC, driven largely by higher oil output and spending on services as health restrictions ease. And with business optimism continuing to rise, our assessment heading into 2022 remains upbeat. We continue to expect GCC GDP to return to pre-crisis levels in Q1 2022, with GDP growth seen accelerating from 2.7 per cent this year (0.5pp higher than we projected three months ago) to 5 per cent in 2022.
The recovery will continue to follow a mixed pattern given divergent growth strategies and different policy spaces. The UAE's proactive approach to attracting global investment and talent, along with greater budget headroom, means it will outperform regional peers.
The oil sector is already benefitting from higher production quotas and will be critical to boosting regional GDP growth in 2022. It should also remain an important driver of growth beyond next year as producers expand capacity.
Meanwhile, regional PMIs show strengthening growth momentum in the non-oil sector, with output and employment on an upward trend. Although the pandemic is not over in the GCC, high vaccination uptake has helped regional countries avoid a Delta wave.
The remaining domestic COVID-19 restrictions are mostly related to mask-wearing, PCR testing, and ongoing social distancing. Low infection rates and less disruptive COVID measures have allowed mobility levels and domestic activity to return close to normal, helping fuel the economic recovery, with equity prices rising strongly. And while virus headwinds remain, our forecasts for the GCC show non-oil growth of 3.3 per cent in 2022, after an estimated expansion of 3.8 per cent this year.
Tourists are returning to the region after borders have re-opened, aiding the recovery of the hospitality sector with Dubai, in particular, witnessing a significant bounce due to the start of the delayed Expo 2020. However, the rebound may suffer in the near-term as health situations fluctuate around the world.
The price of Brent oil has eased below US$80pb as high COVID-19 numbers in Europe and new restrictions raised concerns about demand, but it remains significantly higher than this time last year. The OPEC+ group has so far stuck to plans of steadily increasing oil output, but could adjust policy if the Omicron variant weighs on demand.
We expect the oil market to swing into oversupply soon and prices should continue to trend lower as a result. We see Brent averaging US$72.5pb next year, slightly higher than this year, but reaching US$68pb by the end of 2022.
Higher energy prices have bolstered Gulf governments' finances as oil revenues remain dominant in the region's budget revenue structures. Recent data show Saudi Arabia's budget swung back to surplus in Q3 after more than two years in the red.
In Qatar and the UAE, data already showed surpluses in H1, while elsewhere in the region deficits are shrinking. But uncertainty over revenue remains and the budgetary plans for 2022 and beyond unveiled by some GCC governments point to continued fiscal restraint. Consequently, our forecasts show an overall GCC budget surplus next year for the first time since 2014.
Inflation has been much less of a problem across the GCC than in many Emerging Markets. Moreover, the energy and food prices (which have the highest share in regional CPI baskets) have likely peaked, which implies regional inflation will gradually subside in the coming months, even as disinflationary forces from housing and weak demand wane.
We see GCC inflation averaging 2.5 per cent next year, just above the estimated average of 2.4 per cent this year, before falling back below 2 per cent in 2023. As a result, regional central banks can afford to remain patient, keeping interests at current levels until the US Fed begins to hike in Q3 2022, with low financing costs supporting recovery momentum.
Elsewhere in the Middle East, we maintain expectations of modest growth of 2.5 per cent for Iran next year, slightly slower than this year's forecast of 2.9 per cent, but see some upside risks as Iran rejoins talks over the lifting of US sanctions.
The ICAEW Economic Update: Middle East, is a quarterly economic forecast for the region prepared directly for the finance profession.
Image courtesy OER Live – for illustrative purposes only